Upcoming Games:
OVER
Stream links:
Replays:
https://www.youtube.com/user/dsect0r/videos
https://www.twitch.tv/cncsteffster/profile
Scores:
Important: Read the rules and make sure you understand them. Whoever does not show up when they are supposed to, is rude, cheats or breaks any of the rules, will not be allowed to participate in the next tournament next month ($2000 prize tournament).
Tournament Date: May 18th, 2016 – June 12, 2016
Live Streaming of the Game:
Monday – Friday 7:00PM – 1:00AM
Saturday – Sunday 12:00PM – 2:00AM
(Beijing Time, GMT +8:00)
Where to watch?
The times of each series will be posted tomorrow
Xixia King: http://www.panda.tv/62325
dsector and other XWIS players will stream as well. Dsector's channel: https://www.youtube.com/user/dsect0r
Prizes:
200RMB (about $30) for each series won.
Game setting:
Short Game: ON
MCV Repacks: ON
Crates Appear: OFF
Superweapons: ON
Game Speed = 6
Initial Credits = 10000
Initial Units = 0
Note: Superweapons will always be on regardless of map choice.
Rules:
Engineers capturing buildings is always allowed (Good news if you are a professional lamer). There is no rule against "engi"-ing your opponents buildings. This is war!

Since MCV Repack is allowed, feel free to move your MCV, including the center of Heck Freezes Over map. It's not a noob move, it's a strategy!

Dogs are allowed to eat any engineer. Watch out for dogs!

You may "Alt" your tanks onto your opponent's War Factory and Ore Refinery. However, you cannot continuously alt to prevent tanks from coming out of the war factory. (Most Chinese Players understand the difference between "Alt" and "continuous Alt", and they will not perform "continuous Alt" in ANY games.

Always respect other players! Do not overly use taunt to bother your opponent.

At last, please TURN YOUR TRAINER OFF if you have one!!! In each game, the referee will ask you to take a screenshot. If you win the game, but do not have the screenshot, the win will not count.
(Note: if you are using QQ, it's very easy to take a screenshot. Simply pressing Ctrl + Alt + A for a quick screenshot).
Series:
Each XWIS player will play a series vs each Chinese player (6 series in total for each player). 12 players total (6 from XWIS and 6 from China)
Each series will be first to 7 wins. Each game in the series needs to be played on a different map, except Heck Freezes Over which can be played twice (first time required). In the case of a series ending 7-6, each map below will be played (12 maps total + Heck played twice)
The first map of each series will be Heck Freezes Over. Then, the loser of the previous game gets to pick the next map. No map can be picked more than once EXCEPT Heck Freezes Over.
Maps Choices:
Battle:
Heck Freezes Over (It shall always be the first map of any series) == 冰天雪地
South Pacific == 南太平洋
Golden State Freeway == 加州高速公路
Montana DMZ == 蒙大拿非军事区
Stormy Weather == 暴风天
Country Swing == 乡村乐
DEFCON 6 ==防卫区争夺战
City under Siege == 围攻之都
Heartland == 心脏地带
Snow Valley == 雪谷
Paris Revisited == 重返巴黎
Official Tournament Map (4) == 正式锦标赛地图C4
Naval War:
Depth Charge == 深水炸弹
Players:
=JF=AoTMan
AoTMan started his Red Alert 2 Career since 2005. He is a legendary Red Alert 2 player in China, with countless honors. From 2008 – 2012, he has been the champion of National Tournaments 5 times consecutively. He ranks multiple No. 2 on XWIS, he score the highest on XWIS among all Chinese XWIS players. In China, he was No.1 in comprehensive tournaments from 2010 to 2012. Due to works and other issues, he stopped playing Red Alert from 2013, but coming back 2016 and obtained top 4 rank with ease. In 2016, AoTMan is top 4 player of Panda TV 2 v 2, King of Heck Freezes Over Tournaments.
In 2011, AoTMan accept challenges from all players on YY-Live Red Alert 2 Streaming. Multiple players come over and he only lose one game for 3 days. It is unprecedented! His best side is America.
NSP午夜,255
Nsp=Wuye AKA 2559726460. Started Red Alert 2 since 2009, Champion of "NSP" battle clan. Top 10 player of King of Heck Freezes Over Tournaments in 2014 and Top 4 player of Comprehensive Tournaments in Panda TV 2016. He is also a popular game host for live streaming and owns lots of fans.
幻影帅胖,胖老师
H-Shuaipang. He started Red Alert 2 since 2010, Champion of "HuanYin" battle clan. He ranked number 5 in National Red Alert 2 Championship, and ranked No.3 in 2 v 2, Panda TV 2016, King of Heck Freezes Over Tournaments. He is professional with Red Alert Theory, and considered himself as a teacher for other players with regard to battle theories. He always love to say: "Come on man! Don't be a coward, show me your micro!"
完美HBK08, 千年老二
WM=HBK08. He started his Red Alert 2 Career since 2008, right now he is the chief minister of combat of "WanMei" clan. He ranked countless No. 2 in all tournaments, including King of Heck Freezes Over Tournaments, National Championship etc. He is famous for his constant winning of the Second Place in every Tournaments no matter where he goes.
完美假牙西,老假
WM=jayaxi. Jayaxi started his Red Alert 2 career since 2009. He is the best brother of WM=HBK08. He is famous for his amazing construction pace and extraordinary economical control during every games. He is the champion of 2013 National Red Alert 2 Tournaments, and No. 1 of "WanMei" clan. He set up his goal to win the 3rd place in all tournaments, and always meet his goals. He is very famous for his solid construction skills and impenetrable defense in both 1 v 1 and 2 v 2 Red Alert 2 battle.
黑鹰月亮3, 老三
=HY=MOON3. Moon3 started his Red Alert 2 Career in 2008. He played hard and became No.2 in the "King of Heck Freezes Over Tournament" in 2012 and No.2 in "Chinese National Championship" in 2013. After that, he comes the Champion in every Tournaments. I mean, every single one! There is no doubt that Moon3 is the best player of Team China.
Captain Marko
Marko, or the Captain of XWIS, came on the scene from nowhere in 2006 and started crushing everyone- - and i mean everyone. He quickly climbed to the top winning rank 1 after rank 1. Of most note perhaps is January 2008 where he was the # 1 rated player in XWIS playing exclusively as a Germany-- a feat not even attempted by any other player before or since. He is well known for his eccentric style and adaptability.
Latof the Deso King
Latof has only lost 4 series since 2014, single handily sculpting modern XWIS gameplay in the process with his unique deso-centric bind sytle. If you're unlucky enough though, he will use his unsettling Korea just for his own amusement. It is said that his chilling psychological aura of pure focus can be felt through the computer screen during the post-game lobby.
Marsh
An ancient allied player consistently among the top rankings with several rank 1 finishes of his own. Having a PhD in America vs Iraq, "Sir Marshall" AKA "The allied hope" AKA "VoZ" has popularized several now common allied approaches including the mirage-spy defense as well as the mass rockies defense -- highly unpredictable player.
Max
"Mr. AllMax" aka "ALi" the Robot is known for his profound understanding of TC alongside his principled and active style. He is one of the most solid soviets in the game with many high rank finishes and is part of one of the most notorious and feared 2v2 duos ever.
Mikoz
Mikoz, or "Palacio" is a 5-time rank 1 ladder winner and countless top 10 finisher that is known for his micro and use of fodder, acquiring the nickname "Dogoz" for it. He is not afraid to bring the pressure fast and endlessly vs any opponent on any map.
General Tim
Tim aka "n44bj" is easily in the running for the #3 player ever; always lingering around the top of the ladder, giving the best players a headache in every game. This soviet player has no weakness besides boredom from being so dominant with many rank 1s and an XWIS tournament Grand final appearance to go with it.
- - - - - - - - - - - Many thanks goes to "Google" (Tencent Nick) / H2SO4 (XWIS Nick) for translating the rules and helping with the communication between China and XWIS. You may add him on QQ: 2054533674 / Skype: bojunzhou / Facebook: Luke Frankenstein. He is currently a college student studying at Rutgers University in Piscataway, NJ, USA and he's a big fan as well as a pro-player of Red Alert 2. Thank you for your hard work and involvement!
If you are in the tournament, please install QQ messenger so that you can communicate with your opponents: http://download.cnet.com/QQ-International/3000-2150_4-75695295.html
Use the same QQ ID and password as the one you use to play.
Go to "Groups" --> right click --> Search or Join a Group --> 438520018 --> Click on + to join the group.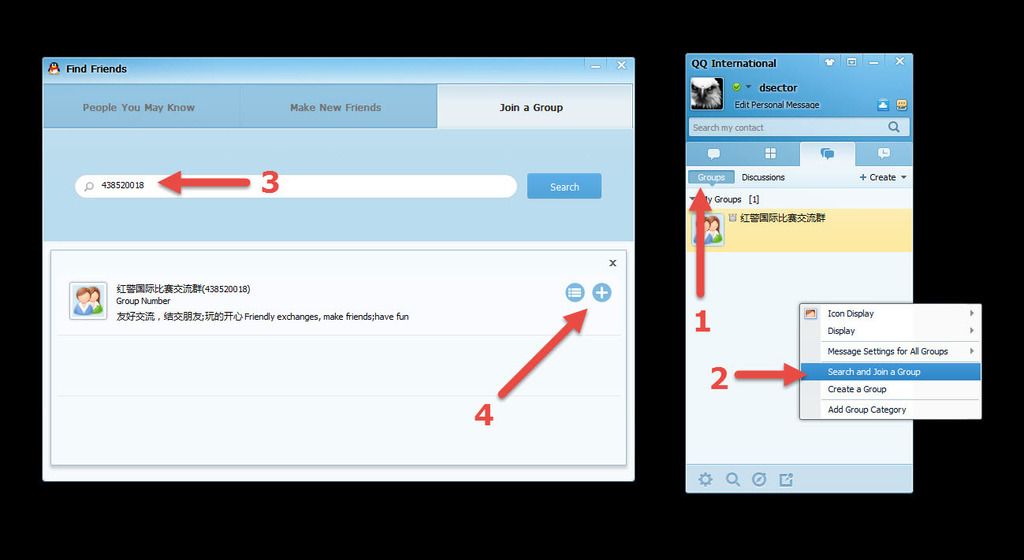 About the sponsor:
Panda TV – A platform that offers a great deal of exciting live streaming and live video contents for various games. It is the most entertaining live streaming and sharing platform for competitive games in China. While Panda TV is in constant contract with the most outstanding and fascinating live-gaming announcers; it is also rich in other content such as music, sports, outdoors, movies & movie stars, arts, fashion etc. The originality of streaming content as well as the brilliant live-gaming announcers has built the future of Panda TV. We hope you enjoy a great deal and share your happy moments with others by watching our exciting live-game streaming and live videos on Panda TV.
Panda TV official Weibo:
http://weibo.com/PandaTV
Panda TV official Site:
http://www.panda.tv
Like and Join us on WeChat: 熊猫TV直播平台
Edited by dsector, 04 June 2016 - 07:42 AM.