TAGS: tutorial, build order, miner control, miner, economy, how to build, low money, money
Introduction: Miners are units used to gather money in Red Alert 2. They are the main source of economy in the game and are shared by both factions, soviet and allied, with subtle differences.
The allied miner: The allied miner is called the chrono miner. It gets its name for its ability to "chrono" or teleport.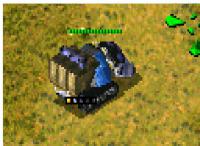 The soviet miner: The soviet miner is called the war miner. It gets its name for its small gun.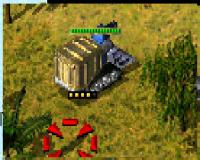 Differences between them: The main difference between the soviet and allied miners are their respective abilities, soviet having a gun, and allied being able to teleport. Another difference that is often more overlooked is the fact that the soviet miner carries twice as much ore as an allied miner. The soviet miner can hold up to $1000 (gold ore) or $2000 (gems) whereas the allied only carries $500 and $1000, respectively.
The basics
The first thing you do in any game with regard to miners is placing your initial refinery. Refinery placement is very key and one of the most important things to learn when starting to become a better player. More money = more units = more carnage! It seems obvious to say, but placing your refinery in optimal positions is very important. The optimization of these positions is dictated by: distance to ore, fortification, and high mobility. After mastering your refinery placement you must then master your miners! You will then need to know how to miner control and fend off drones.
Distance to ore: It is important to place your refinery right up next to the ore Also, try to place your refineries so that they face the ore/gems, so the miners don't have to turn so much. In the long run, all those turns, especially U-turns add up. It is better to remove obstacles to better place your refinery. Obstacles include, but are not limited by, trees and ore itself! Yes, it is sometimes better to remove ore to better place a refinery! Also, as the game progresses you should place your refineries close to the ore re-generators so your miner miners the ore around the ore re-generator first before going to the exterior ore.
The above pictures show a good (left) and bad (right) refinery placement as bottom left on the map Country Swing (2-4).
The above pictures show an example of when it is better to remove ore in order to achieve a better refinery placement. The pictures show the ore field before ore has been removed (left) and after it has been removed and a refinery has been placed (right) (Hi Emi!). The pictures are taken on Heck Freezes Over (2-8) in the top left position.
The above pictures show an example of when it is better to remove trees in order to achieve a better refinery placement. The pictures show the ore field before trees have been removed (left) and after they have been removed and a refinery has been placed (right). The pictures are taken on Amazonas Delta (2) in the left position.
Fortification: At times it may be better to compromise optimal distance to ore for greater fortification. Also, refineries are often built at the beginning for an extra miner and are soon sold. If you know ahead of time your refinery will be sold you may decide to use your refinery to "stretch", or build closer to some desired location, instead.
The above pictures show a refinery being placed in order to "stretch" to a key fortification (left). The right picture shows the location at which the second refinery was placed, immediately following the war factory placement, in order to achieve optimal position. The pictures are taken on Little Big Lake (2) in the bottom position.
High mobility: You do not want to place your refinery in such a way as to constrict miner flow OR tank flow. Placing refineries flush with a cliff wall is bad because this may cause your miners to go below the cliff before depositing ore and may force your miners to queue up. If you place your refinery in a position that constricts tank flow and you need to pass through a position to defend against oncoming tanks, this restriction may force your tanks to "line up" and make you lose a tank battle!
The above pictures show a refinery being placed flush, or right against a cliff wall. The left picture shows a miner going below the cliff before depositing and the right picture shows miners that are queued up.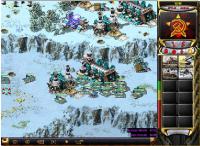 The above picture is an example where a refinery restricts tank flow in a key location where an enemy may attack. This is BAD. You do not want refineries to restrict tank flow!
Gems: Ore is gold colored whereas gems are an array of blue, green, and red. Gems are worth twice as much as ore and take just as long to mine. Therefore, it is highly advantageous to go for gems, especially in the beginning of a match in order to jump start your economy. Many maps start off with both gems and ore nearby, it is well worthwhile to go for the gems in beginning. It is important to know which maps have gems nearby and where they are in each position. I'll leave an explanation of what maps and where those gems are to another person.
The above pictures show gems (left) and ore (right).
Miner control (Soviet): Miner control is the name given to the action of controlling miners manually. This means that instead of letting your miners freely roam around and pick up for you, you are the one controlling them. At first this sounds like an extremely daunting task. You are not controlling the miners every second, but instead you are guiding them and making sure they are not mining dumb. For soviets, miner control is very important and a key aspect of becoming a good player. Miners have "dots" underneath them indicating how full they are and with what type of ore. A gold color indicates gold ore and a blue color indicates gems. Each miner has 5 "dots". The miner in the picture at the beginning of this post is 4/5 full of gold ore. Knowing how to tell how full your miners are is the first step in mastering miner control. When soviet miners are full of gold ore they automatically head to the nearest refinery. Unfortunately for you, however, miners are very dumb and don't mine as optimal as they can. They often mine in long lines instead of mining the nearest ore, and before depositing ore to a refinery they pause, costing you important time and money! So, in order to achieve the greatest income of money per unit time one must utilize miner control! This is done by manually sending miners back to refineries and by dividing miners up between refineries. Sending miners back manually accomplishes two main things. First, your miner will no longer pause before depositing its ore because you are sending it straight to the refinery. Second, the miner automatically goes and mines the closest ore! How great is that?! Also, making sure there is a good number of miners per refinery is important and is dependent on how much ore is available. If you have to many miners mining near only one refinery they will often queue up, this is bad. To combat this you need to split miners up between the ore fields you are mining at. An optimum number of miners per refinery (for soviet) is 4 to 6. Of course, if the ore field is nearly depleted you need only one, and if it is full, 4 to 6 would be best.
The pictures above show examples of miners mining ineffectively. The left picture shows a miner mining farther from the refinery than it needs to, and the right picture shows two miners pausing before they deposit their ore. BAD!
Drones vs. Miners (soviet): So, you are soviet and your miner gets droned, what do you do? Well, first it is important to learn from this mistake and next time try to stop the drone from getting into your miner in the first place. If you see your opponent getting a drone in the beginning of a match he is likely going to try to drone your miner which can easily cost you the game on a map like Defcon 6 (2-6). In order to kill drones and protect your miner you should always have a sentry gun ready, assuming you have the funds, and place it down if you think it will kill the drone. Do not place it down before you need to, however, as the player controlling the drone can easily circumvent it and drone your miner anyway. Your miner is most vulnerable when it is about to or is depositing ore because your miner's gun becomes useless. This is when you should expect to get your miner droned and you should be weary of the drone and be ready to kill on it quickly. Second, if your miner gets droned you need to immediately cancel any building you are building and get a depot to fix it. Fixing a miner that has been droned gets rid of the drone. It is important that during the period between building and deploying the depot your miner is not damaged at all as it will be nearly dead when you deploy the depot. Any extra damage will almost for sure make the miner die. It should be noted that you only need to briefly fix your miner to get rid of the drone. Both allied and soviet miners slowly regenerate their health, so you need not fix it all the way.
Drones vs. Miners (allied): As allied you need not worry much about drones. This is because if a drone enters your miner you need only chrono your miner to a refinery--the drone does not chrono with it and is left behind.
Soviet miner control tips: Miner control is the most important at the beginning of every game, especially in the first 2 minutes. This is the period of time that most players are going to end up running out of money, maybe for only a couple seconds but those seconds are very critical if you are going to end up putting off a rush or executing one yourself! At the beginning of the game send your miner to the gems if there are any, and when you are about to place your war factory then your miner should be about full (5/5 dots). This is when you should send your miner back. After this you generally get your second refinery, which also costs $2000 and takes the same amount of time to build as a war factory, so, as you can guess this is when you need to send your miner back again. This is also approaching the critical 2 minute time when you are the most likely to run out of money. During this time it is advantageous to foreshadow your insufficient funds and start sending miners back manually despite not being full, 2/5 or 3/5 is fine! As the game prolongs the advantages of manually sending your miners back is not as important, but if you are not busy doing other things then you should definitely be sending those miners back manually. As you get more and more ore fields under your control you need to split up your miners between refineries so they are mining efficiently.
Allied miner control tips: For allied your miners will be picking up less ore and returning quicker as a result. The consequence of this is the need for more refineries as compared to soviets. For soviets, I suggested 4-6 miners per ref at a maximum, but for allieds you should not have more than 3 miners per refinery and an optimum amount would be 5 miners per 2 refs. This is because, as I said, your miners will be returning a lot more and since they teleport you do not want them to be teleporting to refineries far away, as they may do this automatically and have to travel all the way back, costing you money. The advantage of allied miners is that because they return ore at a faster rate (albeit in smaller amounts) your economy is generally a bit smoother than soviets. Instead of constantly sending miners back manually as allied the best things you can do are dividing up your miners among ore patches, having the correct number of refineries, and making sure your miners mine "smart" and not in long lines. The latter is easily achieved by initially sending your miners from refineries or war factories to the ore you wish for it to mine. This will cause the miners to mine a lot smarter than they would have on their own and is very simple to do. So, in conclusion the only thing you ultimately have to worry about is having the correct number of refineries for your ore miners.
Advanced Miner Control and Tactics
So, you thought that covered everything? Well, no! You're wrong! There is more to be learned and these are what I would call advanced miner control. Have you ever noticed how ore varies in how it looks? What do you do when there is no more ore on the map? And what the hell do you do with all those miners that don't have anything to do?
"Big" and "small" ore: Each cell of ore does not always have the same amount of money in it. Instead, ore that is lower concentrated or "small" appears more sparse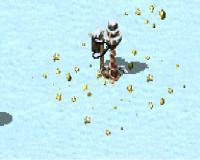 and ore that is more concentrated or "big" appears more concentrated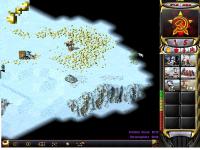 Cells of ore that are "small" are mined quicker, but yield less money, and the miner must then travel to the next cell of ore. So, it goes without saying that mining "big" ore can give you a very marginal edge, but an edge nevertheless. At the beginning of a game the very outer edges of an ore field are generally "small" with the next interior cell being "big". Sending your miner initially to this "big" ore can provide you with all it takes to never hear "insufficient funds" ever again, combined with basic miner control too, of course!
No money left: This is when ore re-generators become key (See picture for small ore to see an ore re-generator). Ore re-generators regenerate ore, as their name might suggest, but do so slowly and only directly around the re-generator. Your miners will often stall when there is no money left as well, so it is important that you keep an eye on your miners and on your re-generators making sure that they are mining whenever they can. It takes only 1 miner to keep mining around a re-generator and even then it will occasionally mine all of the ore around it and stall. You need to keep checking on these miners and manually make them mine. Also, on maps where you can foreshadow your ore fields dwindling away you can manually send your miners to mine directly around the re-generator so that it keeps regenerating ore. This is important to do on maps like Country Swing (2-4) when you are in top position and have less ore.
Extra miners (soviet): If there is no money left and you have 8 miners and only 3 ore fields, then you have at least 5 idle miners. So, what is there to do with miners with no ore left on the map? Miners are actually arguably the best fodder in the game, soviet miners in particular since they have an extra gun. You can use these miners as fodder and can quickly hit z and waypoint them to kill your enemies fodder. Also, in small tank battles where miners are involved you can place your miner directly in front of your tank and in front of your enemy tank's fire to block damage to your tank. Of course, your miner still gets damaged, but your tank won't! Miners also are not damaged by radiation and do decent damage against infantry units. This makes them ideal candidates for killing desolators! Also, miners have a 1 cell greater firing range than rhinos. In games where a player has destroyed your mcv, radar, and naval yard, the only unit that may be able to attack a stretched naval yard will be your miners. So, a miner can easily change what you once thought a stalemate into your win!
Extra miners (allied): Although the allied miners do not have the gun capabilities of a soviet miner, they are still useful as fodder. If you have extra miners as allied you can still use these miners as fodder! Also, if you find yourself without any means of making units but still have a refinery and miners and are in a game with an ally, it would be beneficial to your ally to give him money. This is accomplished by having your miners mine as regular, but instead of allowing them to automatically teleport back your refinery you manually send them to your allies refinery. This can also be done with soviet miners.
Special Thanks To:
Crisis
rumblesom
fir3w0rx
Edited by Seke, 03 July 2014 - 11:39 AM.